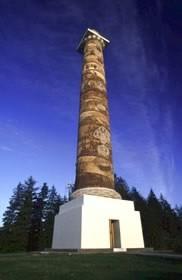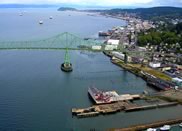 FUN FACTS


Brew Pubs

Astoria Brewing Company at the Chart Room visit website 1196 Marine Drive 503-325-6975

Steve and Karen Allen, of the Wet Dog Cafe and Brewing renovated the Chart Room and are in the process of buying the Andrew & Steve's building.

"It's the old look still, but clean and nicer. Classier," said Andy Huber, who has overseen the renovation and reopening of the bar.

Huber said they plan to install video poker, video lotto and Keno machines within a week or so. The bar will serve a hearty menu featuring appetizers, chili, deli sandwiches, German sausage, shepherd's pie and pizza subs.

For opening night, there will be live music 9-11 p.m

Bridge & Tunnel Bottle Shop & Taproom visit website 1390 Duane St., Astoria, OR 97103

A large selection imported, domestic and speciality brews. Enjoy them here or take to them go.

Open: 11am - 9pm
Closed Monday

Here, one of the West's most relentless rivers meets the wilderness of an entire ocean. The unstoppable meets the unyielding. And here, a community with grit and backbone make that meeting work.

The river that built a town is home for building this beer. A place where hard work and hustle matter; where the local color has seen a little weather; where the newest generation wasn't born yesterday.

This is beer with history to it; a story to unfold, a tale to be told. Brewed from this confluence of pride and place. New beer, with a few centuries under its belt. Beer you can savor and share. Made of a few pure ingredients and a whole lot of local flavor.

Just like the town it comes from.

Fort George Brewery + Public House visit website 1483 Duane St. 503-325-PINT 503-325-7468

Brew masters Chris and Jack's brewpub showcases unique and tasty beer recipes, homemade sausages and menu items made with the freshest organic local ingredients. On the second floor artisan pizza is baked in a wood-fired oven.
Beers are sold to go by the growler or by the keg. Located on the site of the original Fort George settlement, a truly historic site and a fun atmosphere. Sundays we have live music starting at 8pm. Never a Cover charge.


Fort George/Lovell Brewery + Taproom visit website 1483 Duane St. 503-325-7468

As the Fort George Brewery stretched out into a brewery block in late 2010, the Lovell Auto Building was renovated to house a 30 barrel brewhouse, canning line, and taproom. Much like the Lovell Arcade of old, as the brewery expands we have hosted markets, speeches, and concerts. The brewery and taproom is open to the public Friday through Sunday. This space will continue to evolve just like our beers.


North Coast Distilling visit website 1270 Duane St, Astoria, OR 97103

North Coast Distilling started back in a holler in Tennessee, as a thought after tasting some moonshine. At which point we set out to produce a quality product that can actually be enjoyed . This desire soon became a passion and took hold, and years later NCD was born in Astoria, Oregon. What better place to express the rugged individualism embodied in the the history of distilling then the oldest settlement west of the rockies.
Vodka, Rum, Gin, Whiskey, Bourbon, and Moonshine. Oregon Tasting Room Open Thur-Fri 3-6 Sat 1-6 Sun 12-4

Reach Break Brewing
1343 Diane St, Astoria, OR 97103
503-468-0743

An award winning micro brewery with an outdoor experience.

Open:
12-8pm Sun, Mon, Thur
12-9 Fri, Sat.
Closed Tue, Wed

Reveille Cider Works visit website 1343 Duane St. Suite B, Astoria, OR 97103 971-704-2161

Reveille Cider Works is the first hard cider maker in Astoria Oregon producing a wide array of farmhouse and country styles old world hard apple cider.

Open: Thur-Sat. 12-8/9 pm.

Rogue Public House visit website 100 39th St. Pier 39 503-325-5964

Opened in July 2007 in the former Bumble Bee Tuna cannery on Pier 39. Features micro brews, meeting and party space, burgers, pizza and outside seating, all with a Columbia River view.